Annealed Binding Wire for OCC / Waste Paper, Plastic and Steel Scraps Recylers
Aimlong supplies bale ties for recycling industry, for baling of waste paper, cardboard, plastics and steel scraps. Our baling wire can be used for manual tying and automatically tying. Following are our current specifications and new types exported. We welcome business cooperation with companies in this field.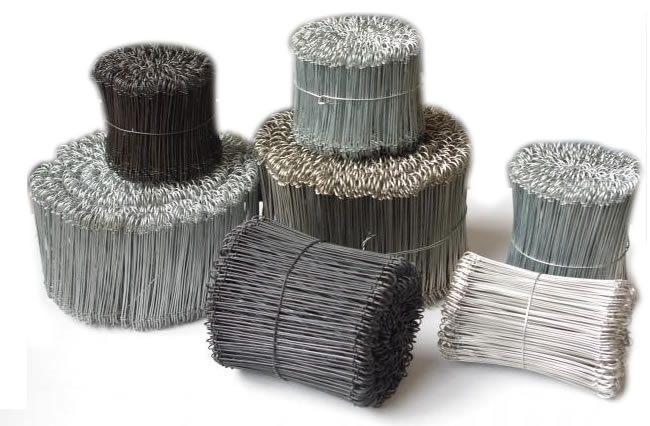 Annealed Baling Wire for Waste Paper & Plastic Recyclers:

Formers of 3.2mm annealed baling wire for waste paper & plastics.
Supplied in Cut & loop baling wire and rewound coils
For recyclers in UK. 
Loop Tie for Recycling Industry to Tie Baling Paper, Cardboard and Plastics:

Supplied to a renown Recycling Company in Mexico:
1. Loop tie, 12.5 AWG OR 12 AWG, to tie manually 800 tons/month (OCC/PAPER)
2. Galvanized, 12 AWG, to tie automatically 1,500 tons/month (OCC/plastic)
Also wire ties for the gathering industry for TLQ.
Baling Wire for Pulp and Paper Manufacturer of South East Asia, China, and America.

Baling wire as follow:
Galvanize baling wire 2.3mm
Galvanize baling wire 3mm
11 Gauge Baling Wire in Coils Used for Baling of Steel Scraps
We offer baling wire with the following specification: 
Common Reference: Strand Annealed Wire
11 Gauge wire with diameter of 0.1185" - 0.1225"
Material: C-1018 Carbon steel
Brake pull: 735# - 848#
Elongation: 25%
Tensile strength: 65,000 psi - 70,000 psi
The baling wire needs to be in coils with the following specification:
Coil inside diameter: 210 mm
Coil outside diameter: 320 mm - 340 mm
Coil width: 150 mm
Coil weight: 46 kg
Target customer: The baling wire is used for baling of steel scrap. 
This product is currently supplied 1100 kg per month delivered to DDU Sabac, Serbia. 
Annealed, Black Baling Wire, 10ga. in 100#/box, 1-skid lot
Supplied for Reseller in Vancouver, Canada, North America

Welcome to contact us with your specific requirements.