Straightened and Cut Tie Wire: Annealed Iron, Galvanised Steel, Stainless Steel or PVC Coated Cut to Size Tying Wire
Straightening cut wire is a kind of metal tying wire cutting to certain length after being straightened. Aimlong China supplies cut wire with a small tolerance of 0.5mm more or less on the length. We have advanced CNC straightening and cut machines to cut wires automatically and quickly. The cut to size wire is ready for versatile binding uses efficiently. Compared with coiled wire ties, the cut wire does not need further cutting after finishing of tying works. Supplied in bundles packing. The straight cut iron wires are easy for transport and handle, finds popular application in construction, handicrafts and daily use binding.
Choose the Right Cutting Wire:
Straightening Cut wire ties are mostly made of galvanized wire or black annealed wire. Annealed cut wire is the soft tying wire choice with good elongation and flexibility, a kind of economic building materials popularly used in rebar tying in constructions. Galvanised iron cut wire, both electro galvanized and hot dipped galvanized, are hard basic wires offer bright shine, good tensile strength and good resistance to acid and alkaline corrosion and rusting. Plastic (PVC / PE) coated straightened and cut wire is supplied where the tie wire needs further layer protection and enhanced corrosion, rust and aging resistance. Stainless steel cut wires are high grade wire ties with excellent properties above all other materials at higher cost. In general, annealed and galvanized iron cut wire cost less compared with stainless steel wire and pvc coated wire, and they are mostly used in construction and industrial uses. Stainless steel cut wire and plastic coated cut wire cost higher and are mostly used in garden, handicrafts making and other high grade binding uses. We also supply pencil rod (Straightened and cut basic wire 1/4" in diameter and 20" in length ) for construction and industrial uses.

General Technical Information:
Material: Galvanised wire (Electric galvanized iron wire or hot-dip zinc-plating wire), black iron wire.
Wire diameter: 0.5mm-1.5mm.
Wire length: 25cm-65cm.
Cut Wire Products of Aimlong with Photo Illustrations, For Export:

Black Annealed Cut Tie Wire Used as Bar Ties: Soft Quality. Stright and Cut to Size

Black anneald wire / soft annealed iron wire
Common size: 0.5mm-6.0mm
Tensile strength: 30kg-70kg/ mm2
Elongation rate: 10%-25%

General Specifications:

Wire Guage
Length 1
Length 2
Length 3
Length 4
Length 5
Length 6
Length 7
BWG16
150mm
200mm
300mm
350mm
400mm
450mm
500mm
BWG17
150mm
200mm
300mm
350mm
400mm
450mm
500mm
BWG18
150mm
200mm
300mm
350mm
400mm
450mm
500mm
BWG19
150mm
200mm
300mm
350mm
400mm
450mm
500mm
BWG20
150mm
200mm
300mm
350mm
400mm
450mm
500mm
BWG21
150mm
200mm
300mm
350mm
400mm
450mm
500mm
BWG22
150mm
200mm
300mm
350mm
400mm
450mm
500mm
Parking
5kg ~18kg/carton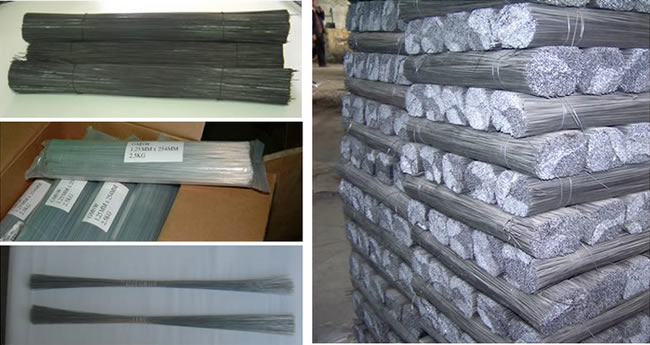 Galvanised Steel Straightened and Cut Tie Wire, Hard Quality
Galvanized surface treatment, anti-corrosion. Wire diameter: 6#-21#. Raw material: Q195. Various sizes and bundle weights available.
Wire Gauge: 0.7 mm to 5.0 mm
Surface: Black or electro galvanized or hot dipped galvanized
Cut length: 250 mm to 3000 mm
Packing: bundles or cartons and pallet
Raw material : Q195 low carbon steel
Zinc coating : 10- 20 g / mm2 or 40-60 g / mm2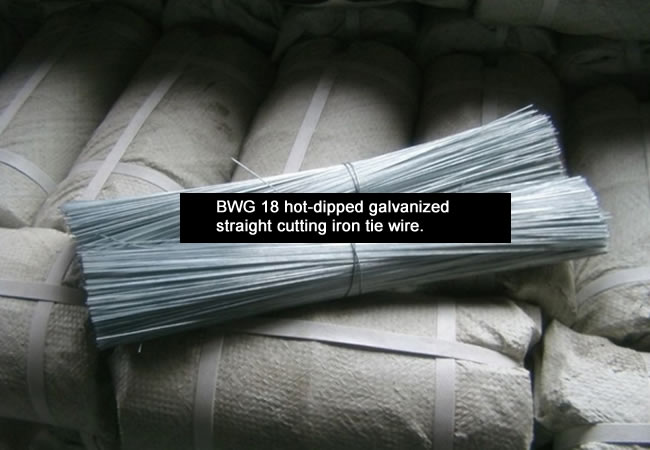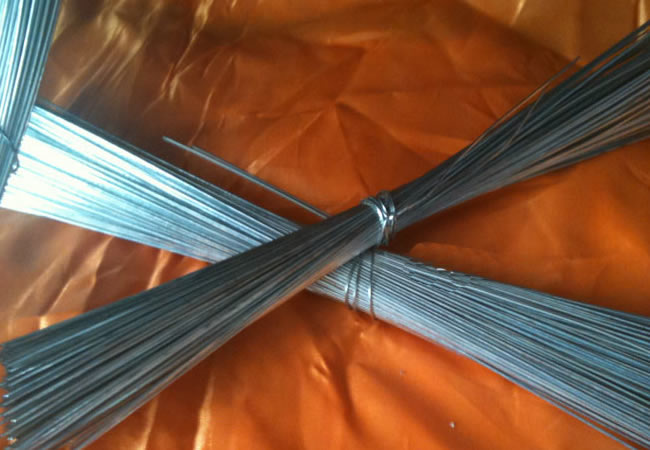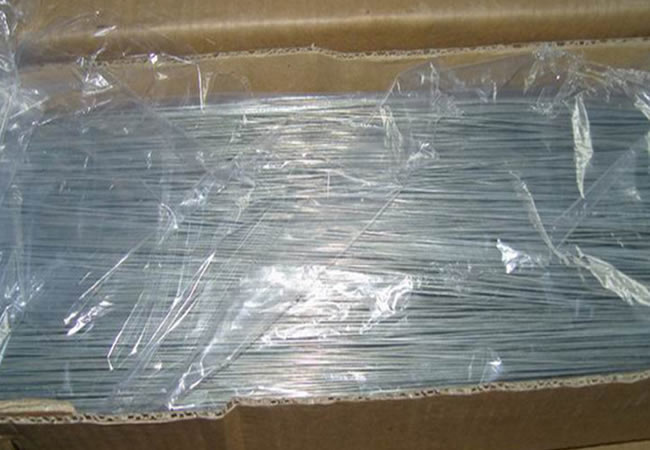 PVC / PE Coated Green, Blue, Yellow, White, or Black Colored Iron Wire Cut to Length for Binding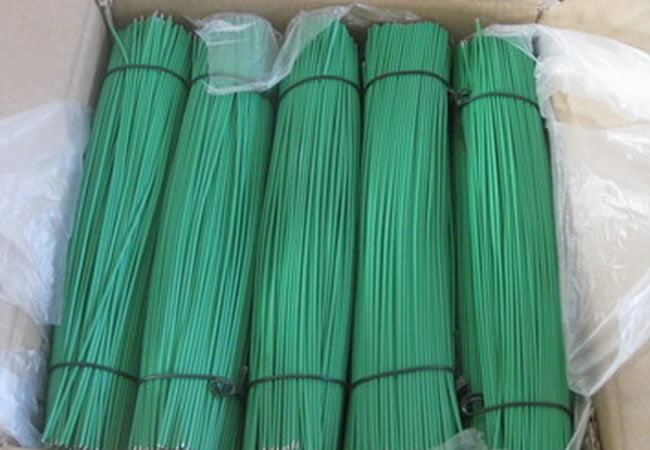 | | |
| --- | --- |
| Diameter | BWG8-22 |
| Material | Low carbon steel wire Q195 |
| Surface Treatment | Pvc coated |

Straight Cut Stainless Steel Binding Wire
Standard Wire gauge: 8#-23# (wire diameter from 0.6mm to 4.5mm) while the length varies according to our customers' needs.
Wire Straightening Cut Machines
Our CNC Straight and Cut Machine is designed for the production of all materials straightening & cut wire. The steel bar straightening and cutting can be achieved automatically and quickly. By adjusting wire length, different lengths of steel wire can be processed.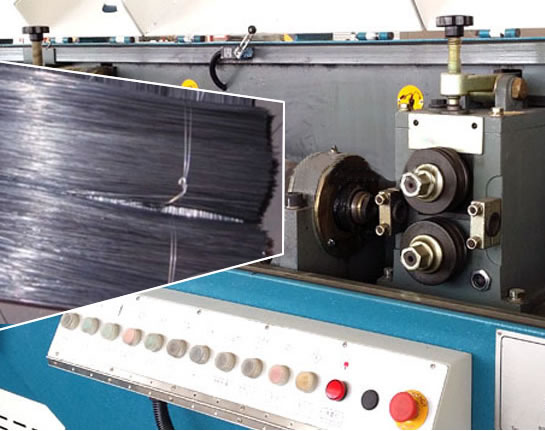 Features:
1,Wire smoothing unit.
2,Automatic buffer for collecting finished material.
3,Three gear speed for more type wires.
4,Automatic aligning unit ( patent ).
5,Emergency stop system to stop the pay-off in case of loops forming on deflection roll.
6,SIMENS operation system.
7, Max. speed 130m/min.
8,Air clutch cutting system reaches 600 times
9, Imported CNC automatic gauage system.
10,Tough straightening unit for long life.
11 Automatic Control systems