Binding Wire Coils Used in Cotton Linter Bale Bundling, Black Annealed Finish, Galvanized Finish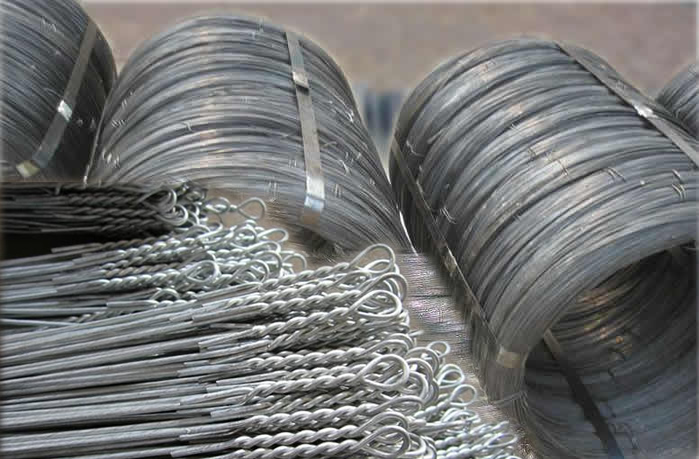 Aimlong exports cotton linter baling wire ties to many countries: Netherland, Azerbaijan, Syria, South Africa Canada and many others. Packing can be 45kg coils, 500 kg or 1000 kg rosetten. We develop and produce series of steel tie wire for cotton baling and other industries. We welcome business partners from the world: importers, traders, wholesalers and distributors. If you are looking for a new and reliable baling wire supplier, if you are interested in our products, or in any forms of cooperation, start contacting us by email now.
Galvanized Steel Cotton Linter Baling Wire Supplied to Syrian Market
We export galvanized steel wire ties to a Syrian company focused on tender announced from the Syrian governmental organisation. The galvanized steel baling wire is used in cotton linter baling.
Cotton Baling wire, annealed / oiled, Diameter 3.40mm for Azerbaijan
Standard According to - EN 1001602 D9-1 
Diameter - 3.40mm 
Tolerance acc DIN 177 +/- 0.08 
Tensile - 320-450N / mm2 
Supplied - 500kg rosetten (or more, up to 1000kg) 
Protection - Export packed wrapped with oiled paper and banded 
Quantity - 25 MT per lot order 
Annual consumption 10 MT or suitable qty for easy transportation.
For press machine: UNOTECH UPAMAT 100 V5 
Destination market: Baku, Azerbaijan
3.18mm Double Annealed Black Baling Wire

Black Annealed Baling Wires Exported to the Neverland
Black annealed baling wires on rewound coil ±45kg (Ø2.2 – Ø2.7 – Ø3.06 – Ø3.4 –Ø3.8 mm)
Galvanised baling wires on rewound coil ±45kg (Ø2.2 – Ø2.7 – Ø3.06 – Ø3.4 –Ø3.8 mm)
We also export black annealed and galvanized tying wires of above sizes in coils of 500kg or 1000 kg package.
Cut and loop wires, black and galvanised, mostly in Ø2.7 and Ø3 mm, lengts up to 4100 mm
Quiklinks (double loop) wire ties.
We supply CIF Antwerp in full container load.
Welcome to contact us with your specific requirements.